Recently I have worked on the Concept idea I Used to Be… where I have created a Concept Booklet vol.1 on the Cardigan Bird. Work is still on going, in fact, the Concept Booklet is the first step towards finalized concept, which I am going to develop further. So there will be more blog posts  to come on this project in future. Nevertheless, in this post I would like to share some glimpses of work in progress stages of the Cardigan Bird and my way of  handling the creative process. I want to stress that  process is never linear but it is going several rounds, validating information and ideas, and sometimes ending up at the starting point again.  In this post I  am concentrating only the character creation and leaving out the process of making the booklet since that is totally another story to share in another time.
Giving a deeper insight about my work, firstly, I want to point out that sustainable values are vital drivers in my work. I am exploring, how can I as an illustrator contribute on and increase awareness of socially and environmentally balanced way of living. Being more specific, my work raises the concern about the big amount of used, but wearable clothes that ends up in landfill every day. Thinking about my former degree in Fashion and clothing, it has given me the understanding of environmental and social impacts of fashion industry. Having mentioned that, I need to point out that not only industry but also consumers have a big role in a garment lifecycle as an end user. In my work I am particularly focusing on the consumer end; My aim is to inspire audience to see the beautiful opportunity in used garments, and encourage the viewer to reshape and produce something new out from so called fabric waste.
While looking at the possibilities, how garments can be reused I have become more and more interested in sustainable way of living. And in particularly I have looked at Slow Movement ideology as converse to fast pace consumer culture. The Slow Movement is a lifestyle, which considers aspects from environmental and social sustainability. The Movement addresses the issue of time poverty, it looks at today's fast pace lifestyle arguing that it has caused the dis-connection between people, their family, friends, community, place and food (Slow Movement, 2016). In the other words, the Slow Movement is not only concentrating literally on the time has spend in doing things, but how time is spend; It stresses the conception of time allowing to have greater variety of speeds and selective slowness.
As an Illustrator I want to tell stories and evoke feelings with my works. Having mentioned that I started to think how I could reflect on above phenomenas; can I recognise some characteristic in different kinds of clothes, what kind of feelings clothes could evoke in us? I chose couple of  different types of garments (such as a cardigan, jeans, a t-shirt..) and analysed in what kind of occasions people are wearing them. Also I was looking at if the chosen clothes have some special features, which are standing out. By doing that I came up with the idea to create a concept I Used To Be… and tell a story of a garment by transforming it to a fairytale animal.  In the first Concept Booklet I decided to illustrate the new life of a cardigan and give an insight what slow living would be for the Cardigan Bird. For me the creative process is a lot about asking questions, that is the way I find my directions. So, I  started to doodle and alongside asked to myself what happened to a cardigan, what kind of life she had before? How the Cardigan looked like?  How she ended up to be a bird, did someone just abandoned her? How the transformed cardigan would look like? What does she do after transformation?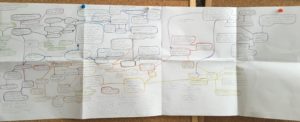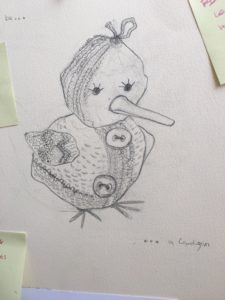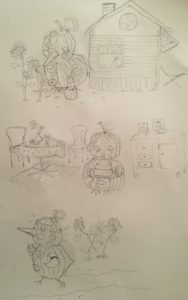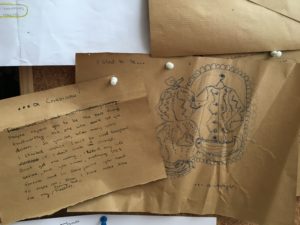 I wanted to get a refresher and understanding where I'm standing when I am talking about a knitted garments so i had a closer look on how a cardigan is made.  Even todays knitted clothes are mostly made by machines, there is still rich craftsmanship tradition alive, which, at least for me, is a source of inspiration giving authenticity when thinking the story, material properties and ways to illustrate the material and character.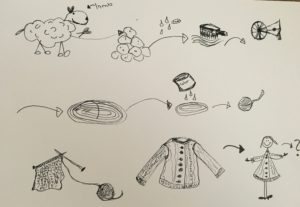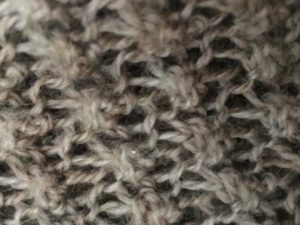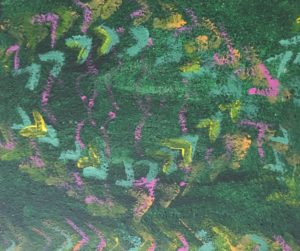 I kept asking more questions: Is this concept only  about the a story of  a garment or could this reflect the feelings of a wearer too? If the cardigan was a real person, what kind of person she would be? Should I illustrate the owner of the cardigan as well? How to illustrate the transformation? What media I should choose and which color palette would work the best?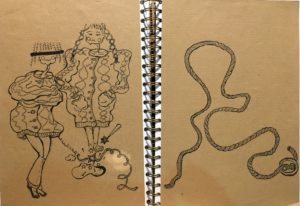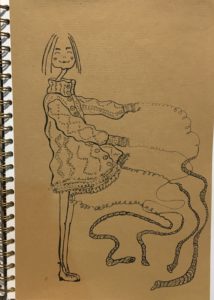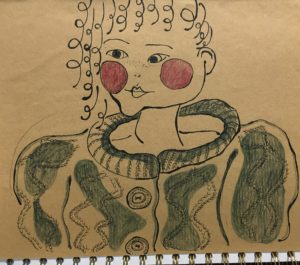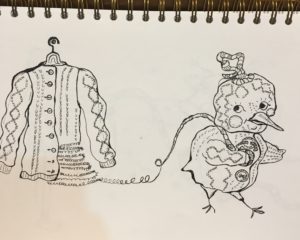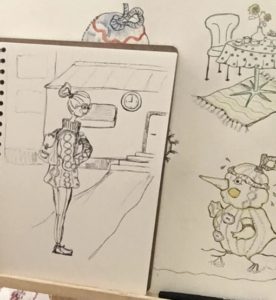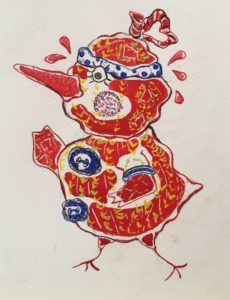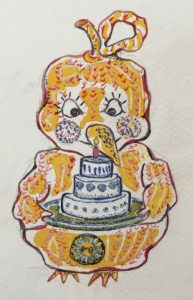 Thinking about the media, in general I am using watercolours and acrylics, which shapes the body of my portfolio quite clearly and that was the media used in this project as well. The Cardigan Bird got it shapes quite quickly and it needed only subtle fine-tuning while the project got further. Above illustrations are screen shots from the Booklet (background of the drawings are created by using Photoshop). I have used acrylics and pen; Cardigan Bird builds up green color blocks and blue outlines, which makes illustrations flat and static . Comparing these illustration to my previous projects, normally I use wider color palette, but here I wanted colors to be more controlled. Creating contrast to static appearance, I depicted the knitted tweed structure using quite freely yellow and pink brushstrokes & white pen on the green color blocked surfaces.  If you have had a look on the Booklet, you might have noted that I didn't  illustrate much the world where the Cardigan Bird inhabits. Therefore, the next step is to focus on bringing bird's living territories in life, which brings the concept to a new dimension and make charachter more real. Also, the transformation theme has become very important to me. Here the bird jumped out from the cardigan leaving behind a visible hole as a shape of bird. I see that this is a good start in illustrating transformation, though, when working on the concept further, I am aiming to explore more deeper the transformation theme.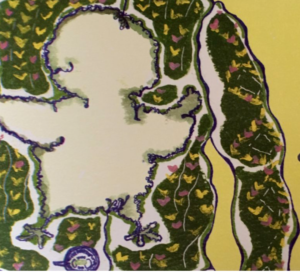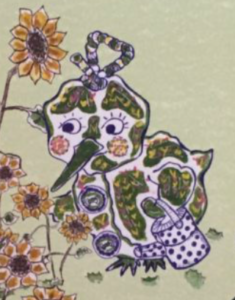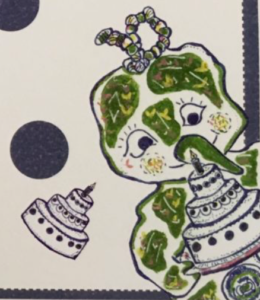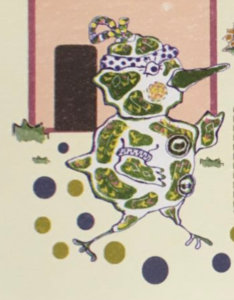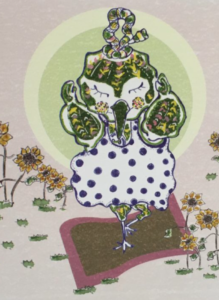 Reference:
SLOW MOVEMENT (2016). Slow Movement: Making a Connection. [Online] Available at http://www.slowmovement.com [Accessed: 10 July 2016 ]*
*Reference content is only used for educational purposes.