Regarding abstract art, and especially the theme about painting music, I have discovered that there are two common names in fine arts; Vasily Kandinsky and Paul Klee. Speaking of Kandinsky I found a very interesting article Ways of mind-walking: reading, writing, painting by Tim Ingold, a Professor of Social Anthropology and Head of the School of Social Science at the University of Aberdeen. In the article Ingold offers an insight into how the terrain of imagination and real life can be understood in visual and non-visual practices. I was especially interested in the part of the article where he approaches modern abstract art using its pioneer, Vasily Kandinsky, as an example.
Ingold mentioned about Kandinsky's concept of external and internal. I found that Kandinsky's theory is quite complex, and I need to find more sources in order to understand it better. However, Ingold illustrates Kandinsky's idea that paintings were no longer meant to be understood in a way that one can say a painting is a picture of something. In other words, a painting should be more non-figurative. Figurative paintings bind objects in the visible world, and sometimes they lack content. In abstract art, paintings drill down to the viewer's soul and evoke feelings. But what exactly did Kandinsky mean by abstract contents? How I see this is that; paintings of objects are too obvious and they can't convey meanings in a way that abstract art does. Abstract contents of paintings give an opportunity to be part of the experience. Could it be, in this case, that abstract contents describe what the artist (Kandinsky) felt while painting music?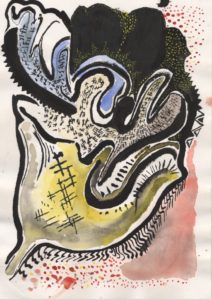 Above painting is one of my very first reflection on music. Media: Ink and Watercolor on 180g/m2, A4.
Bibliography:
Ingold, T. (2010) 'Ways of mind-walking: reading, writing, painting'. Visual Studies. 25(1 )April. pp. 16-23.