It is funny how you can struggle with your thoughts and works, and then you realise that the answer is in front of you. Something like this happened to me lately. Even I am interested in fashion and clothing I began to feel I tried too much, and I felt my approach to the topic was too obvious. Instead of hitting my head against the wall I started to think over my interests and change direction.
Then it hit me, music, it was so obvious! Why haven't I thought of it before? Music has always been a big part of my life as I have played the piano and hand bells for many years. I also love listening to music.
I pictured myself playing the piano and thought how the music flows in the space. I think it is amazing how we can read the music from 2D music sheets and translate it to sound waves, that is, I think, something invisible, layered and three dimensional; It evokes feelings and emotions and can resonate in your body. Below are some of my first interpretation on music.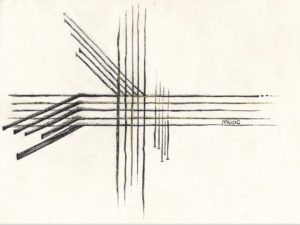 Media: Fiber-tip pen and pigment ink on 200g paper, A4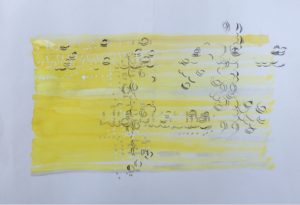 Media: Watercolor, finer-tip pen and pigment ink on 150g paper, A3