Couple of days ago I randomly went trough some magazines I had kept in my drawer for quite some time. I found this little recommendation ad about Sunday lunch restaurants in London. As I'm working on the music theme I started to think what kind of music do I usually hear in restaurants. What is the typical background music like? Of course it depends on the restaurant but in general I think it is most likely some light, melodic music; something you don't pay much attention to but it is nice that you can listen to it. Sometimes people's talk can mix with the music and perhaps, after all, it can considered to be more sound pollution than pleasant voices.
So, I came up with this idea to illustrate the background music; bringing the music in front. I used the ad as a surface for my painting. I listened to some jazz music pieces, looked for some music sheets, and using the light box I copied ties, staves and notes to the surface. I choose the piece below as I think it well represents a music genre that I would hear while having lunch or brunch at an idyllick restaurant.
You can listen to the piece here.
I painted over the ad with silver acrylic paint to bring out "the invisible" in front. I left it to be little bit transparent as I wanted the food plates and cups to be recognizable. I wanted to illustrate how music, and on the other hand human voices, would interact in the space. It can be quite a mess when you try to distinguish music from the other voices in a busy restaurant.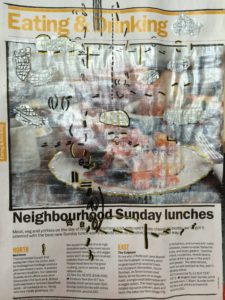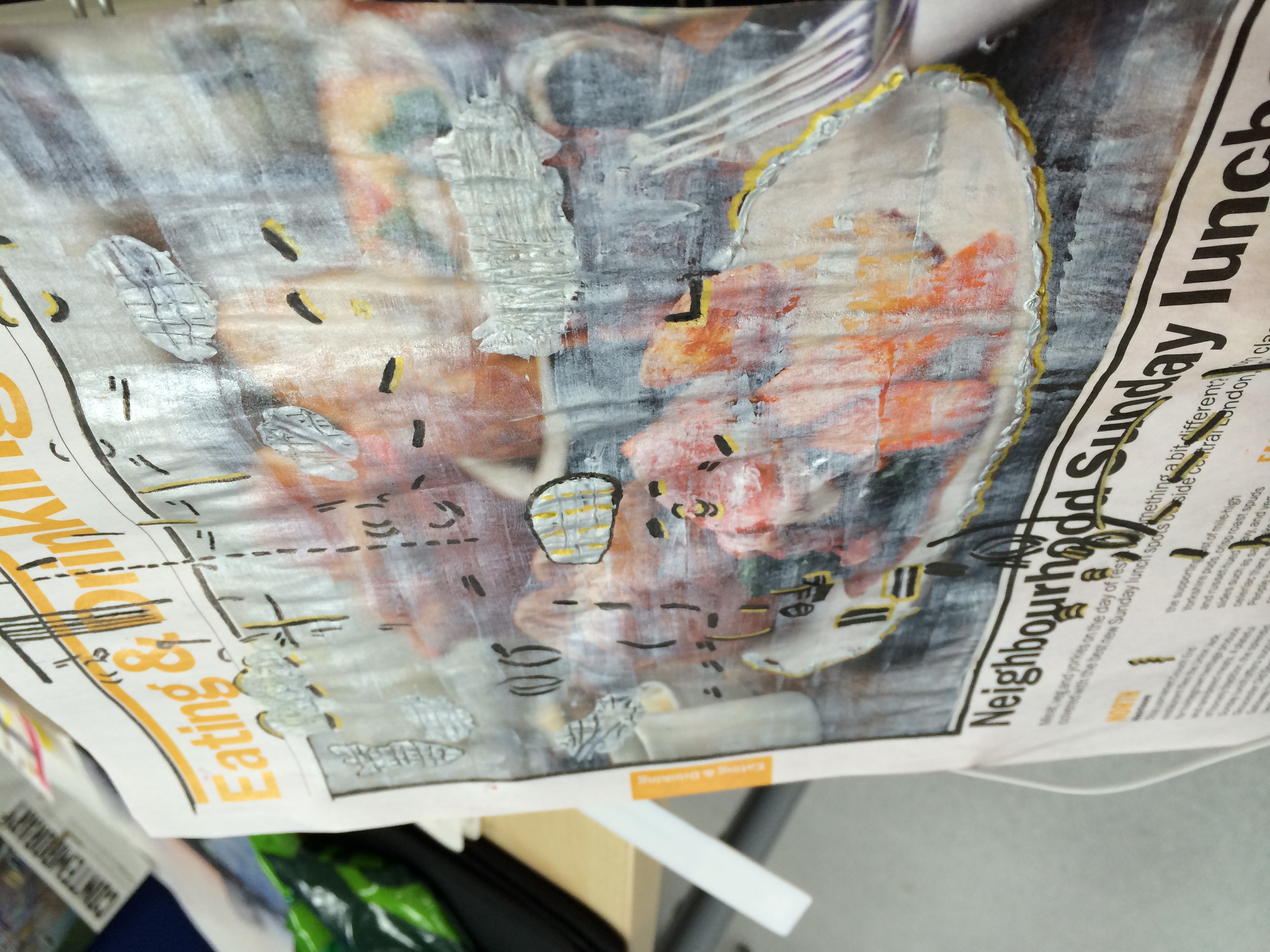 Overall, I found it was fun to paint and play around with this idea. Besides, this is a new media for me as I haven't really done any experiments with a collage style before. I like how acrylic paint performs on the magazine. Depends on which angle you choose to view the work, the picture of the magazine appears more or less visible, and the texture of the acrylic paint shows differently.
Media: Silver acrylic paint, a golden pen and black fiber tip pen on magazine page.
23 / 12 / 14